Congratulations to Alberta's own Michael Simonson named the RCA Coach of the Year at the 2016 RCA National Conference.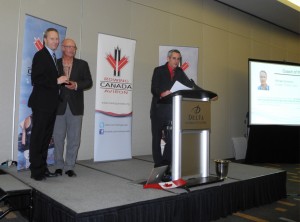 The Rowing Canada Aviron COACH OF THE YEAR Award is presented annually at the National Awards Dinner to a Club/University coach of para or able bodied rowers who have produced outstanding crews or individual athletes in competitive activities at the provincial and national level in the immediate past season/year; and
demonstrates a personal commitment to coaching excellence;
demonstrates commitment to fair play, good sportsmanship and respect for officials;
promotes the development of athletes' abilities both on and off the water;
has been continuously involved in RCA's national coaching education program; and
has the respect of his or her athletes and, peers.
Michael was recognized for many reasons including:
Michael was a coach for over 10 years with the Calgary Rowing Club senior team and has left an indelible mark on the development of his athletes and fellow coaches through his commitment and generosity
In addition to Michaels extensive coaching training, he brings with him the experience of having participated in national and international events on Team Canada. He uses these experiences to structure his program and instil the values of respect for themselves, their teammates, competitors and officials in his athletes.
His helpful and supportive demeanour towards athletes of all experiences and abilities at the Calgary Rowing Club and other smaller clubs around Alberta encourages athletes to develop into better rowers and challenge themselves and support other coaches with club and athlete development.